As the situation develops with Coronavirus pandemic, The Pioneer Group is committed to making sure residents, staff and communities stay safe. We will continuously monitor updates issued by the government and respond accordingly by updating information on our website and social media channels:
Our teams have worked hard over the last 18 months to respond to the crisis and as the situation unfolds we are now transitioning cautiously and with great care to protect our employees, residents and communities.
The following infographic shows what services we can currently offer.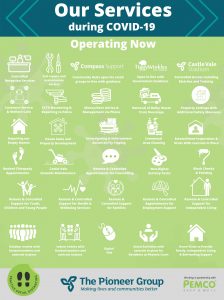 We are working hard to provide a full range of services. In doing so, we need to ensure all activities have the appropriate measures in place and follow approved guidelines best practise to keep our employees, residents and customers safe.
As of Monday 19th of July, England will be in Step 4 of the Roadmap out of lockdown. We have updated our operations to reflect this throughout The Pioneer Group and as an organisation this outlines our core operational processes for employees as the following:
All buildings will be open with controls in place;
A combination of home-working and office working with controls in place;
Visits to tenants homes are permitted but will include social distancing and wearing PPE;
Community services and events to proceed with limited numbers and strict controls in place; and
All external activities reinstated with controls in place.
We are continuously reviewing government guidance alongside advice from Birmingham City Council's Public Health Department and will provide regular updates to our services through our social media platforms.
For full details of all official government guidance on the latest measures, please click here.