Castle Vale Community Housing (CVCH) has launched a new Neighbourhood Action Plan to make targeted improvements in Castle Vale.
Using information from neighbourhood team members, residents and community partners, CVCH has grouped similar areas into four new neighbourhoods.
Previously, Castle Vale was divided into 14 'patches', with Community Coordinators responsible for the housing management of these patches across the estate. By grouping neighbourhoods together and allocating a designated officer, there will be a more efficient process to assist residents. This change also creates new opportunities to identify areas of additional collaboration such as organising more drop-in sessions, or providing education around fly-tipping, in areas most affected by those issues.
Sixteen different action points have been identified and the team have been putting in hard work to get the actions complete, including:
Taking part in community Spring Clean events and working to educate schools and youth teams about the impact of litter and how to keep the community clean
Creating standard guidelines for staff to talk to tenants about tenancy breaches
Encouraging a community gardening group, to help people who are struggling to keep their gardens tidy
Holding drop in sessions with West Midlands Police to give an opportunity to discuss concerns face to face and learn more about keeping the community safe
Community Coordinators are going through a change too – moving forwards, they will be called 'Neighbourhood Officers' and will help with any tenancy matters, from name changes to antisocial behaviour.
To make these key changes, each new neighbourhood has been given a name. Residents were canvassed during regular Tasking meetings and Community Chat events, and decided on names that reflect Castle Vale's strong aeronautical history.
In keeping with Castle Vale's aviation heritage, the new neighbourhoods honour legendary pilots from the 20th Century:
Alex Henshaw was Chief Test Pilot at the Castle Bromwich factory from 1940, testing flights throughout WWII and was awarded an MBE for his work
Arthur Bradfield Fairclough, a WWI flying ace, was a member of No. 19 Squadron, formed at Castle Bromwich, and was awarded the Military Cross in 1918
Frederick Sowrey, another member of No. 19 Squadron, was awarded the Distinguished Service Order, the Military Cross and the Air Force Cross – as well as shooting down a zeppelin in 1916
From No. 54 Squadron, formed at Castle Bromwich in 1916, Reginald Maxwell, MC, DFC & Bar, AFC, was a flying ace who served in both WWI and WWII.
The map of the new neighbourhoods can be seen below.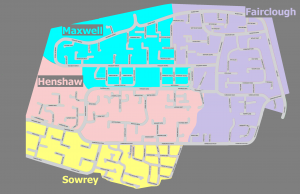 Anna Paterson, Neighbourhood Team Leader for CVCH, commented on the important changes for Castle Vale residents:
We've seen similar approaches work really well for other housing associations and have implemented them to make Castle Vale a better place to live.

By creating larger neighbourhoods, we can understand our communities better, and use the information we have more effectively.

Our next steps are to learn what works well – we will understand what initiatives are having the most impact on our community and where we need to make improvements.